FRP composite panel is a high-tech, high-quality new type of panel. FRP panels will not be brittle at ultra-low temperatures of -40 degrees, will not deform at high temperatures of 100 degrees, and can prevent heat transfer. It is a material used in construction, manufacturing, transportation, and other fields. It is light and hard, non-conductive, stable in performance, high in mechanical strength, less recycled, and corrosion-resistant. Therefore, FRP panels can replace steel to manufacture machine parts, automobiles, ship shells, etc.
FRP composite panels can replace colored steel plates, aluminum plates, stainless steel plates, etc. It overcomes the shortcomings of traditional products such as rust, corrosion, heat conduction, ease to dent and deform, difficulty to clean, poor durability, ease to wear, and unable to adapt to harsh environments. After special surface treatment, the FRP board has the characteristics of high self-cleaning, light, UV protection, antistatic, and so on.
Table of Content:
The Structure of FRP Panels
FRP board is mainly composed of high-performance film, reinforced polyester, and glass fiber. It adopts a sandwich structure. The outer layer is made of glass steel sheet, and the middle is made of high-density air-gathering foam material. The thickness of the heat insulation layer reaches 50-100mmn, and the panel thickness ranges from 1-3mm. Get excellent heat insulation performance.
FRP Lighting Board
Features of FRP Lighting Board
FRP lighting board has high strength and good impact resistance and is lightweight.
FRP lighting board has excellent aging resistance and corrosion resistance. The outer surface of the FRP lighting tile is treated with double layers of PE film that is anti-ultraviolet and anti-aging. The inner surface is made of corrosion-resistant special unsaturated resin and glass fiber and other raw materials. The service life of FRP lighting panels can reach 10-30 years.
The FRP lighting board is beautiful and bright. They can be made into various colors to meet individual requirements. Thanks to the high-quality raw materials of the substrate and surface layer, this bright and colorful color can be maintained for many years. The light transmittance of FRP lighting panels can replace daytime lighting, and the light produced is soft and bright without dizziness.
The construction of the FRP lighting board is fast. They are lightweight and easy to install.
The FRP lighting board is installed on the steel structure with the saddle pad (waterproof cap), which can effectively prevent the roof tile from becoming loose after long-term use, or water entering the roof.
Uses of FRP Lighting Panels
Industrial use of FRP lighting panels. Industrial plants, warehouses, roof, and wall lighting. Roofing of dry coal sheds, blast furnace rooms, and steelmaking plants requires plates with flame retardant requirements. Anti-corrosion plates are used for daylighting in chemical plants, acid, and alkali workshops. With natural lighting, energy saving, and consumption reduction, the working environment is brighter.
FRP lighting panels are used for civil purposes. Parking shed, laundry canopy, sun room, temporary work point. Convenient and practical, high quality and low price, clean and atmospheric.
Commercial use of FRP lighting panels. Supermarkets, bazaars, stadiums, school playground roofs, arched roofs, human-shaped channel roofs, outdoor roofs, commercial and leisure places, and parking sheds. Natural lighting, good light transmission, and soft light.
Agricultural use of FRP lighting panels. Industrial plants, warehouses, animal husbandry, flower planting, vegetable greenhouses, and other agricultural lighting anti-corrosion roofs, with superior lighting performance, heat preservation, and high light transmission.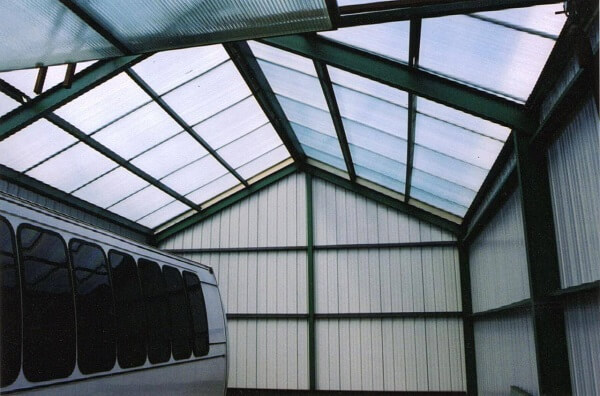 FRP Wall Panel
FRP wall panel, also known as glass fiber reinforced plastic plate, is a material used in construction, manufacturing, transportation, and other fields.
Advantages of FRP Wall Panel
Lightweight: FRP wall plate has light density, and its weight is only 1/4 to 1/5 of that of steel, which can reduce the weight of buildings and reduce the cost of infrastructure construction.
High strength: white FRP wall board has the characteristics of high strength, good rigidity, impact resistance, vibration resistance, etc., and is not easy to deform and break.
Corrosion resistance: FRP wall panel has good corrosion resistance and will not be eroded by chemical substances such as atmosphere, water, acid, and alkali.
Good insulation performance: fiberglass reinforced panel has good insulation performance, and will not generate static electricity, leakage, and other problems.
Aging resistance: FRP plate has good aging resistance and long service life.
The FRP wall panel is rich in color: the outer surface of the FRP board is covered with a variety of color films, which are rich in color and can meet different architectural needs.
Disadvantages of FRP Wall Board
Easy to deform: FRP plate is relatively soft and easy to deform under the pressure of heavy objects.
Easy to scratch: The surface of the FRP panel is relatively fragile and easy to scratch.
Uses of FRP Wall Panel
FRP composite panels are widely used in refrigerated carriages, containers, RVs, mobile homes, temporary offices, sentry boxes, trucks, postal vehicles, news broadcast vehicles, mobile communication vehicles, refrigerated vehicle freezers, and building wall partitions.
Architectural decoration: FRP wall panels are often used for interior decoration in commercial buildings, office buildings, public places, etc., and can be used as wall panels for decoration and protection.
Amusement facilities: In entertainment facilities such as amusement parks and water parks, FRP wall boards can be used as partition walls or exterior walls to increase decoration and durability.
Industrial environment: Due to its corrosion resistance, FRP wall panels are widely used in chemical plants, food processing plants, and other industrial places with special environmental requirements.
Yachts and ships: FRP wall boards are also used in the interior decoration and bulkhead walls of ships because their lightness can reduce the overall weight.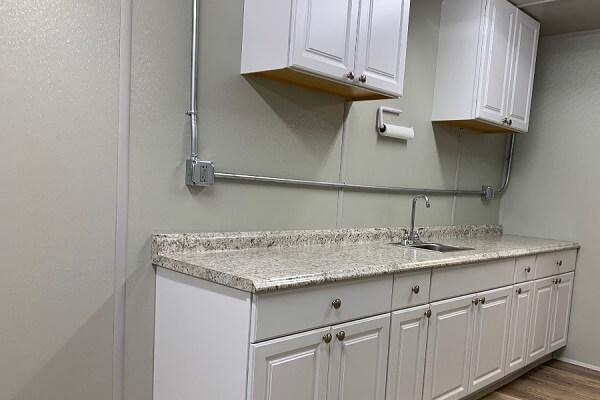 Using SMC Hydraulic Press to Produce FRP Panels
The SMC hydraulic press is a kind of hydraulic equipment specially used for manufacturing FRP glass fiber-reinforced plastic products. Our 2500-ton composite material forming hydraulic press can realize fast down, pre-compression, deflation, work, pressure holding, cylinder pressure, slow mold opening, fast return, slow de-molding, fast ejection, ejection stop, and rapid return wait for action. It can also add functions such as degassing in segments (up to 6 segments), supplementing and stabilizing pressure, multi-point temperature control, and rapid pressurization.
Features of SMC Hydraulic Press
Eight-sided guide structure, larger guide area, strong anti-eccentric load capacity.
Multi-cylinder evenly distributed structure, heightened beam design, stronger molding stability.
The hydraulic system is installed on the top of the machine, equipped with a maintenance platform, which is environmentally friendly, low noise, and convenient maintenance.
The speed of ≥500mm/s is fast to close the mold, and it can be divided into multi-stage speed and slow pressure molding, and the exhaust time is reasonably reserved.
The servo system responds quickly, fully digitalized control and the power of the oil pump can be saved by 40%-80%;
The slider can realize two control methods of fixed distance and constant pressure and has functions such as pressure maintenance and time delay. The working pressure and stroke size can be adjusted within the specified range according to the process requirements.
Our SMC hydraulic presses are ideal for producing FRP panels and are the first choice of FRP panel manufacturers and FRP wall panel manufacturers. If you have any hydraulic press needs, please contact us. We are a factory specializing in the production of hydraulic presses in China, which can provide high-quality hydraulic equipment.