High Quality, Strict Quality Control
Chengdu Zhengxi hydraulic press manufacturer fully implements the ISO9001 quality system and strictly implements three inspections in production, namely raw material inspection, process inspection, and factory inspection. Measures such as self-inspection, mutual inspection, and special inspection are also adopted in the production circulation process to ensure product quality. Ensure that non-conforming products do not leave the factory.
Organize production and provide products in strict accordance with user requirements and relevant national standards to ensure that the products provided are new and unused products. Moreover, we made hydraulic press machines with appropriate raw materials and advanced technology to ensure that product quality, specifications and performance are consistent with user requirements. The goods are transported in an appropriate manner, and the packaging and marking comply with national standards and user requirements.
In order to meet the quality requirements of the company's final products, the company strictly controls the procurement of raw and auxiliary materials and external parts. Strict control on supplier qualification verification and procurement procedures.
To ensure that the hydraulic press machine design and development are planned and executed according to the design control procedure, and to ensure that the product meets the relevant national standards and user requirements.
In order to prevent raw and auxiliary materials, outsourced parts, semi-finished products, and finished products from being mixed in production and circulation, the company has stipulated the way of marking products. When traceability requirements are specified, each product or batch of products shall be uniquely identified.
The company effectively controls each process that affects product quality in the production process to ensure that the final product meets the specified requirements.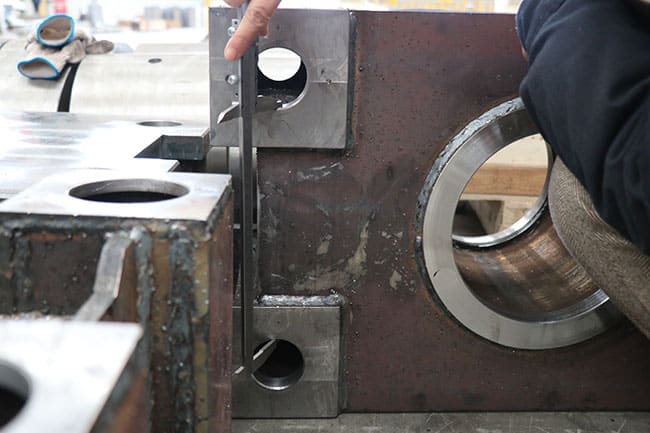 In order to verify whether various items in the production process meet the specified requirements, the inspection and test requirements are specified, and records must be kept.
Control of unqualified products
In order to prevent the release, use, and delivery of unqualified products, the company has strict regulations on the management, isolation, and handling of unqualified products.
If you have to know more information about our quality control of the hydraulic press, please contact us.