GRP manhole cover is a manhole cover made of composite materials that are once pressed by ultra-high pressure and high temperature. It belongs to the hot pressing molding process of composite materials. The automatic production line for manhole cover GRP includes composite material molding hydraulic press, mold, heating equipment (mold temperature controller or electric heating, oil heating), kneader, etc. Among them, the hydraulic press is the main production equipment. The hydraulic press includes three parts: the main engine, the hydraulic station, and the electric control cabinet.
GRP manhole covers have high strength, high density, high stretchability, and excellent impact resistance. At the same time, it also has the advantages of wear resistance, corrosion resistance, green environmental protection and no maintenance. Composite manhole covers have many advantages and great application prospects. The hot press forming hydraulic press is used as the production equipment. It is a one-time investment and efficient utilization. It can be produced in large quantities and the cost is diluted.
In addition, our automatic production line for manhole cover GRP can also change molds according to market trends to press U-shaped resin drainage ditches, sewer grate covers, grass basin manhole covers, quartz stone sinks, FRP warning signs, FRP nine-hole trays, and other products to achieve one machine for multiple purposes. Common composite hydraulic press models include 315T, 400T, 500T, 630T, and 800T.
The Production Process of manhole cover GRP:
First, the GPR dough is produced by the kneader. The pressure is provided by the manhole cover molding press to make the GPR material flow evenly in the heated mold cavity. Then the pressure is maintained and solidified to form a product.
There are two key points in the entire production process:
One is the heating temperature. The temperature in the mold cavity is generally 140℃-150℃. It is heated by electric heating or mold temperature machine. There are two temperature display meters on the electrical cabinet, which can manually set and observe the mold heating temperature. When opening the mold cavity, the material should be discharged quickly and evenly to avoid opening the mold cavity for too long, which will cause the temperature of the mold cavity to drop and affect the pressing effect and demoulding effect.
Second, the pressure-holding function of the hydraulic press is reliable, and the general pressure-holding time is between 15-45 minutes. The composite manhole cover forming hydraulic press produced by Zhengxi Hydraulic provides the function of maintaining pressure during shutdown without losing pressure. The pressed GRP manhole covers have high strength, full shape, and no defects, and are widely praised by customers.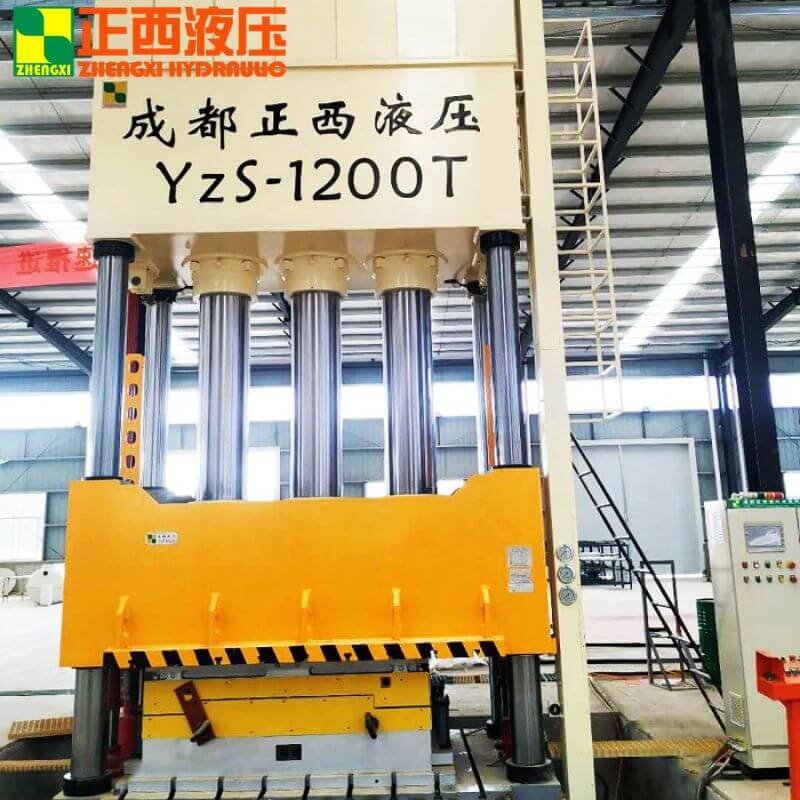 Features of Automatic Production Line for Manhole Cover GRP:
Eight-sided guide structure increases the guide area and has strong anti-eccentric load ability.
Multi-cylinder evenly distributed structure. The heightened beam design makes the molding more stable.
The hydraulic system is installed on the top of the machine and equipped with a maintenance platform. Environmentally friendly, low noise, and easy to maintain.
The mold can be quickly closed at a speed of ≥500mm/s and can be pressurized and molded at slow speeds in multiple stages. Reasonably reserve exhaust time.
The servo system responds quickly and is fully digitally controlled. The oil pump power saves energy by 40%-80%.
The power system adopts an oil-immersed vertical pump unit. Reduce noise and have a good oil absorption effect. The pressure gauge adopts a shock-resistant pressure gauge and is equipped with a pressure gauge door for easy maintenance.
The electrical control system has two control schemes, relay, and PLC, to choose from. The electrical system controlled by PLC is sensitive, reliable, and flexible.
The operation buttons are concentrated on the panel and equipped with movable button stations, making operation easy.
The slider can realize two control modes of fixed range and constant pressure and has functions such as pressure maintenance and time delay. Working pressure and stroke size can be adjusted according to process needs.
Automatic Production Line for Manhole Cover GRP Parameter Table
| | | | | |
| --- | --- | --- | --- | --- |
| Project | Unit | 315T | 500T | 630T |
| Liquid maximum pressure | MPa | 25 | 25 | 25 |
| Slider stroke | mm | 800 | 600 | 900 |
| Maximum opening height | mm | 1250 | 1000 | 1500 |
| Workbench size | mm | 1260×1200 | 1500×1500 | 1600×1600 |
| Idle stroke downward speed | mm/s | 100 | 120 | 120 |
| Working speed | mm/s | 6-15 | 6-15 | 5-12 |
| Return speed | mm/s | 80 | 80 | 90 |
| Motor power | KW | 22 | 18.5×2 | 18.5×2 |
| Oil pump displacement | ml/r | 80 | 63×2 | 63×2 |
| Ejection force | t | 63 | 100 | 100 |
| Ejection stroke | mm | 250 | 300 | 300 |
Zhengxi Hydraulic Equipment Manufacturing Co., Ltd. is one of the famous hydraulic equipment manufacturers in China, with a first-class technical team and strong manufacturing and processing capabilities. We can provide high-quality composite manhole cover-making machinery of various tonnages. At the same time, we can also provide perfect GRP manhole cover manufacturing automatic production line solutions. If you have any needs, please contact us.