A hydraulic press is a machine that uses liquid as a working medium to transfer energy to achieve various processes. It has many kinds. Uses are also various according to needs. In addition to being used for forging and pressing, it can also be used for straightening, pressing, packing, briquetting, and pressing.
Table of Contents
Classified by body structure
It can be divided into the four-column hydraulic press (two-beam, three-beam, four-beam, five-beam), frame hydraulic press, gantry hydraulic press, single-column hydraulic press, horizontal hydraulic press, etc.
1. Four-column hydraulic press
The hydraulic press is suitable for the pressing process of plastic materials, such as powder product molding, plastic product molding, cold (hot) extrusion metal molding, thin plate stretching and horizontal pressing, bending pressing, turning, correction, and other processes. Four-column hydraulic press machines can be divided into four-column two-beam hydraulic presses, four-column three-beam hydraulic presses, four-column four-beam hydraulic presses, etc.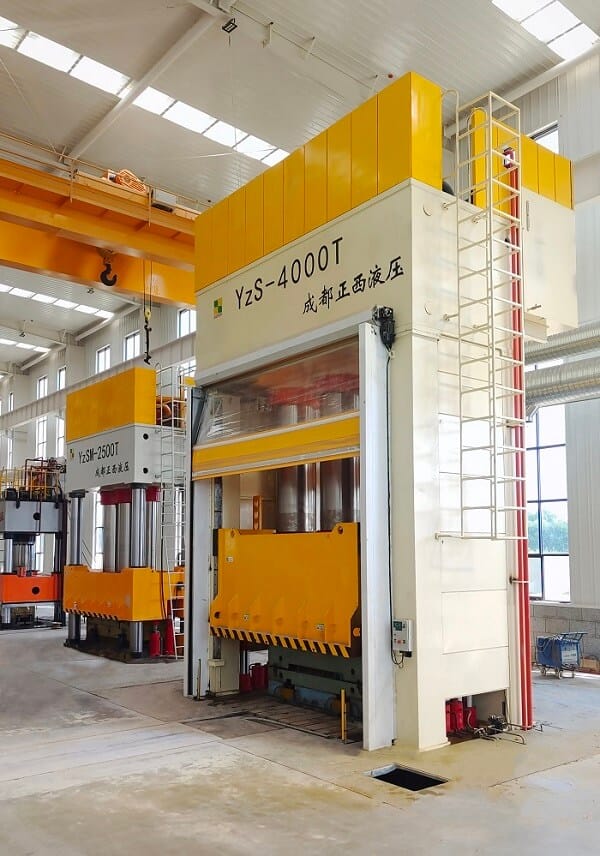 2. C-frame hydraulic press
The working range can be expanded, and the space on three sides can be used to lengthen the stroke of the hydraulic cylinder (optional). The maximum retractable range is 260 mm-800 mm, and the working pressure can be preset.
3. Gantry hydraulic press
It can assemble, disassemble, straighten, calender, stretch, bend, punch, and other work on the machine parts, and truly realize one machine with multiple functions. The workbench of this machine can move up and down, which expands the opening and closing height of the machine, making it more convenient to use.
4. Double-column hydraulic press
This series of products are suitable for pressing, bending and shaping, embossing and indentation, flanging, punching and shallow drawing of small parts of various parts, and forming of metal powder products. Electric control is adopted, with inching and semi-automatic circulation, which can maintain pressure and delay time, and has good slider guidance. Easy to operate, easy to maintain, economical, and durable. According to the needs of users, functions such as thermal instrumentation, ejection cylinder, stroke digital display, and counting can be added.
Classification by purpose
1. Manual hydraulic press: It is used to complete simple work with low pressure and manual operation.
2. Forging hydraulic press: used for free forging, billeting of steel ingots and die forging of non-ferrous and ferrous metals.
3. Stamping hydraulic press: used for stamping and stretching of various thin and thick plates, including single-acting, double-acting, and rubber die stamping.
4. General-purpose hydraulic presses: including all kinds of universal general-purpose hydraulic presses.
5. Hydraulic press for calibration and press-fitting: used for parts calibration and assembly.
6. Laminating hydraulic press: used for pressing plywood, particle board, fiberboard, and insulating material board.
7. Extrusion hydraulic press: It is used to extrude wires, pipes, bars, profiles, and workpieces of various non-ferrous and ferrous metals, such as deep drawing and perforation.
8. Pressing hydraulic press: used for pressing and forming various powder products, such as powder metallurgy, artificial diamond, refractory brick, carbon pole, plastic, rubber products, etc.
9. Packing and briquetting hydraulic press: used for briquetting and packing metal chips and scraps, packing non-metallic scraps, etc.
10. Other hydraulic presses: used for punching, drawing, press-fitting of axles, etc.
Classified by tonnage
Different products use hydraulic presses with different structural tonnages. Even the same hydraulic press can also change molds to complete the processing of different styles of products. It is a multifunctional forging machine tool.
| | |
| --- | --- |
| 63T | 630T |
| 100T | 800T |
| 150T | 1600T |
| 200T | 2000T |
| 250T | 2500T |
| 300T | 3150T |
| 315T | 4000T |
| 500T | 5000T |
Zhengxi is a factory specializing in the production of hydraulic presses, with professional technology and strong economic strength. We can produce any kind of hydraulic press introduced above. If you have needs for other products, you can also contact us. We will provide you with a satisfactory solution.